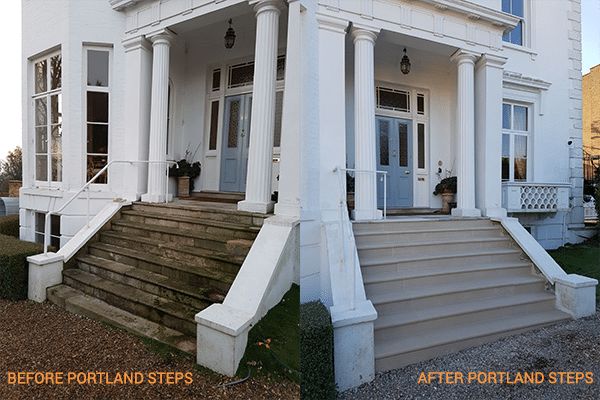 Why choose Portland Stone Steps?
Over the years we have worked with many different varieties of natural stone that are used in paving and walling projects, including Limestone and Sandstone. For sheer beauty and durability, though, we would choose Portland Stone above all others. The uniformity of colour, high density, low porosity and sheer versatility make it our preferred choice for any paving or stone step project.
The benefits of Portland Stone
Uniformity of colour means that each delivery is consistent with others. Our mason knows exactly what to expect with no unwelcome surprises. This is one of the primary reasons it has been used for centuries throughout London. It is the first choice of many stately homes and civic projects, where longevity is demanded by commissioning architects or homeowners.
Bespoke stone steps
Our expert masons will craft the Portland Stone Steps to meet your specification, the slabs can even be cut into curves and serpentine shapes, with a wide choice of bull-nosed edges to one or more sides. All our stone is supplied with six sawn sides, so plinths or tables may be created according to the design, with straight edges or shaped as required.
The stone may be cleanly sawn and accurately drilled to accept railings or other metalwork, either in situ or to a prepared site drawing.
Portland Stone Staircases
Staircases are big and demand attention. Stone staircases even more so. So, it is important that stone staircases marry with the interior design and general aesthetic of the room they are fitted in. Portland Stone, due to its calm palette and subtle hues, is the ideal material for the job.
A little bit of London stone history
Residential homes in London were also often built with this now iconic stone. In particular, whenever stone staircases were built in the typical homes of the time, Portland Stone would be used because of how easy it was to transport up the Thames.
Despite harsher weather conditions and the extra distance from the quarries, several major 1930's constructions in the North of England also used Portland Stone. This includes Manchester Central Library, the Port of Liverpool building and Nottingham Council House. Indeed, much further afield, examples of Portland Stone architecture include the Irish Houses of Parliament, the United Nations Headquarters (New York City) and many buildings and monuments in Washington DC.
To this day, the beautiful natural stone remains one of the most popular stone building materials available. It has a rich heritage and clean, simple beauty, alongside an affordable price tag.
p.s we are now full members of The Landscape Library! Check it our here